3

Transcription Frolics

Transcription Frolics

Heather Sparling
Activity Summary
Transcription frolics are group activities that crowd-source the transcription of Gaelic songs. This activity can be done either online or in-person.
Students will:
Improve their aural comprehension of Gaelic;

Recognize a rhyme scheme in a Gaelic song;

Practice writing (transcribing) Gaelic;

Experience a "frolic," a culturally relevant group work activity;

Learn (about) one or more Gaelic songs, their creators, their purpose, and their source communities.
This activity is best undertaken by advanced Gaelic learners.
However, learners at other levels can participate so long as there is a critical mass of advanced learners who can undertake the bulk of the work, or if the teacher chooses a clear and simple song appropriate to the students' level of fluency.
The teacher should choose one or two Gaelic song recordings (or create them!) for transcription. Careful attention should be given to the clarity of the recordings.

Provide the audio recording(s) to students in advance of the activity (1-7 days in advance), along with any contextual and background information the teacher may want to include.

Instruct students to listen to the recordings at least twice before the transcription frolic. Students should simply listen to the song all the way through the first time they listen. Upon second and subsequent listenings, students should try to listen for recognizable words and try to get the gist of the song's overall meaning.

Prepare an editable Google doc for the transcription.
Required Resources:
Digital recordings of Gaelic songs to be transcribed;

Google doc for the shared transcription;

Each student must have their own playback device, headphones, and something on which to access the Google doc (a laptop is ideal);

A "correct" version of the transcription (if one exists);

One or more quiet spaces where ambient sound won't disrupt the transcriptions, and where playing music aloud on speakers won't disrupt others.
Optional Resources:
Extension cords and power bars (to ensure that no one's laptop runs out of power);

Flip charts or flip chart paper and flip chart markers or white boards;

Headphone splitters;

High-quality speakers (if you plan to listen to recordings together).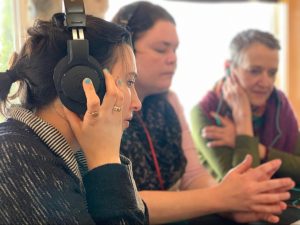 Lesson Structure (50-90 min)
Time

Activity

Resources

5 min

Introduce the concept of "frolics" in Gaelic culture (e.g., milling frolics, spinning frolics, barn raisings). Explain that this is why this is called a "transcription frolic": we are crowd-sourcing the work of transcription.

"Frolic" entry in Dictionary of Cape Breton English.

10 min

Pros and cons of transcription: Discuss the value of being able to transcribe songs. Talk about the need to transcribe songs for which no transcriptions yet exist. Talk about how transcribing can aid oral comprehension. Brainstorm the challenges of transcribing songs (can be hard to understand, language can be poetic or atypical, grammar can be irregular, can be hard to know where words start and end). Transcription gets easier the more songs have been learned or transcribed (there are stock phrases and commonly rhymed words).

5 min

Provide instructions for the transcription frolic. Share the Google doc link. Students will listen to the recording on their own devices and transcribe the song into the Google doc. Everyone will work on the same transcription, but students can choose where to start (they don't have to all start from the beginning). Discourage overwriting someone else's transcription unless a student is very confident that they have heard the lyrics correctly. Instead, find ways to use fonts, italics, parentheses, or comments to make alternate suggestions.

Example song: "Bàta Iagain Cheanadaich"

10-30 min

Transcribe the song simultaneously. The amount of time required will depend on the length of the song, its complexity, its clarity, and the level of the students' Gaelic fluency. Go until the full song is transcribed (although gaps and uncertainties may exist). Allow enough time for students to go back over the transcription to check for accuracy or make corrections.

10-30 min

Review the transcription together. What questions came up? Where are there uncertainties? Can the group resolve any of them? Share a "correct" version of the transcription (if one exists). Where are there discrepancies?

Notation, transcription, and translation of "Bàta Iagain Cheanadaich" in Brìgh an Òrain, p 271-5. Transcription also appears in An Drochaid Eadarainn. See also below.

Optional

10 min

Ask students if they can identify the rhyme scheme in the song. Recognizing the rhyme scheme can help with transcription. Rhyme is based on long vowels and involves both end rhyme and internal rhyme. "Internal rhyme" is rhyme that happens in the middle of a line. For example:

Verse 1:

'S gur e 'n Ceanadach mo nàbaidh
'N saor as fheàrr a thogas bàta;
Chan iarr e lòcair na tàl
Ach spéicean làidir, cruadhach.

This song has a common rhyme scheme: end rhyme for first three lines followed by internal rhyme in the fourth line (bold text)
Note that the "à" sound generally happens on the second last syllable of each line (not the last syllable) — this could be a single word or two words (e.g., ùr dhi in the last verse)
Last word of every verse rhymes (again, the second last syllable: "ua")

Note: although tàl in the verse above is a single syllable, the next line starts with an unaccented syllable, ach; when sung, ach will sound right after tàl, giving the impression that tàl is the second last syllable of the line.

For more on how Gaelic rhyme works, consult Watson's Bàrdachd Ghàidhlig: Specimens of Gaelic Poetry, 1550-1900.
Variations
There are many ways to vary this activity. For example:
Instead of using a Google doc, set up a piece of flipchart paper on the wall for each verse of a song.

Ahead of time, use an app (

Audacity

is free) to slow down the recording slightly. Together, listen to each verse three times while everyone transcribes as much as possible for themselves. Afterward, work together to create a complete transcription.

Use headphone splitters to allow pairs or small groups to work on transcriptions of the same or different recordings.

Split the class in half. Each half takes a turn at collaboratively transcribing a song (two songs altogether). Then switch songs with each group building on the transcription created by the other group.

Invite a fluent, native, or elder speaker to participate or provide feedback on the resulting transcription.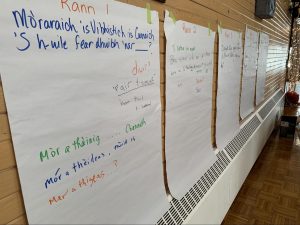 You may find that different activities work better for your group or help to develop different skills and group bonding. You can vary:
the size of the group working on a transcription (e.g., individuals, partners, small groups, large group);

the technology used (e.g., Google Docs, audio apps that enable the slowing down of a recording, earphone splitters, audio and video file annotators);

synchronous or asynchronous activities;

face-to-face or virtual activities;

whether participants listen to a recording separately or together;

whether participants work together on the same song or section of a song, or whether participants work on different materials.
Preparing for Challenges
You may wish to prepare for any of the following potential challenges:
Technical issues, whether due to equipment failure, power outage, or students' lack of familiarity with particular apps and software;

Student frustration if the audio recording or song is particularly difficult to transcribe;

Student frustration with unfamiliar vocabulary or dialects;

Difficulty "finalizing" a transcription for which no transcription already exists: how will you decide which of the various transcription options is "right"?
Bàta Iagain Cheanadaich
A bhean an taighe, fàg an siola
Botul là tha mi 'sireadh
Dh'òlainn deoch-slàinte nan gillean
A dh'imich Di-luain bhuainn.
Forget the gill, good serving lady,
A full bottle's what I require;
For I would drink the lads' health
Who took leave of us on Monday.
'S gur e 'n Ceanadach mo nàbaidh
'N saor as fheàrr a thogas bàta;
Chan iarr e lòcair na tàl
Ach spéicean làidir, cruadhach.
The best shipwright to build a boat
Is my neighbour Kennedy;
He requires neither plane nor adze,
Just strong spikes of steel.
A' cheud té thog e riamh 'san àite
Chaill e shuas aig drochaid Shàm i;
Chìte fhathast ri muir-tràigh i
'S na cruinn bhàn' an uachdar.
The first boat he ever built in the district
He lost down at Sam's Bridge;
At low tide she could still be seen
With her white masts jutting upwards.
Tha té eil' aige ga cur an òrdadh,
Cha bhi a leithid anns a' Phròbhans;
Théid i fairis an Cuan Reòite
'S an North Pole a bhuanndachd.
Now he's fashioning another
Whose like will not be seen in the province;
She'll traverse the Arctic Ocean
And arrive at the North Pole.
'S gabhaidh sinn iongantas 'us ìoghnadh
Nach fhacas aon do chloinn daoine:
An North Pole a bhith ri'r taobh
'S an saoghal a' dol mun cuairt dhuinn.
With awe and amazement we'll all behold
A sight as yet unseen by man:
The North Pole there beside us,
And the globe rotating round us.
'S gum bi sinn uile cho bòsdail
An onair a bhith aig a' phròbhans;
Ma thilleas e dhachaigh beò
'S am Pole aig' air a ghualainn.
And we'll all be extremely proud
Of the honour accorded to the province,
If he returns home alive
With the North Pole on his shoulder.
A' bhliadhna a chaidh e a Labradòr
A dh'iasgach an sgadain reòidht',
'Se MacCuithinn bha 'na chòcair'
'S reòite leis an fhuachd e.
The year he went to Labrador
To fish for frozen herring,
MacQueen, who was the cook on board,
Was frozen solid by the cold.
Nuair a thill iad far na bhòidse
Gu robh sneachd agus gaoth reòit' ann;
Fhuair iad càball chur fo sròin
Mun chròic a bh'aig an fhuaran.
And when they returned from the voyage
Accompanied by chilling wind and snow;
They got a cable under her prow
And around the hitching stump at the spring.
Tha i nist air a h-insiùradh
Fhuair iad acarsaid as ùr dhi;
Chuir iad suas i 'n sin 'nan triùir
Fos cionn an ùrlair-bhualaidh.
And now that she has been insured
They've found her a new anchorage:
The three of them have raised her up
To hang over the threshing floor.
References
Davey, William John, and Richard P MacKinnon. 2016. Dictionary of Cape Breton English. Toronto: University of Toronto Press.
Shaw, John, ed. 2000. Brìgh an Òrain. Montreal and Kingston: McGill-Queen's University Press.
Watson, William J. 1918. Bàrdachd Ghàidhlig: Specimens of Gaelic Poetry, 1550-1900. Glasgow: An Comunn Gaidhealach.